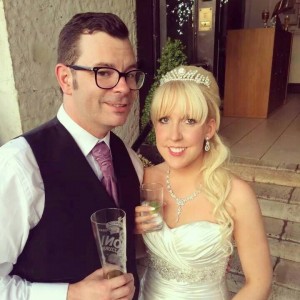 Debbie and Neil McGroarty got married with us on the 31st May this year. Unfortunately they have subsequently had some bad news that a close family member has been diagnosed with an aggressive form of Breast Cancer. At short notice Debbie has signed up to run in the 10k Race for Life on York's Knavesmire this week-end in aid of Cancer Research UK.
We feel for this lovely couple and think what Debbie is doing is great, even more so with such little time to prepare plus she says 'I have a bit of a Phoebe from Friends run (rather embarrassing) so this will be quite difficult for me'.
In support of Debbie's efforts we're delighted to donate 10% of all advance purchase bookings made through our website plus 10% of all extras, ie breakfast and dinner, booked when reserving your room. We're going to do this for all bookings made over the next week but as an incentive to keep Debbie going we'll extend this period to a month if Debbie completes the run.
Please enter 'Donation' as an offer code when booking so we can more easily track the amount to donate at the end of this period.
NB If you wish to book an cancellable rate we can donate 10% of this too but we've chosen to run it on the advance purchase rate as it's the cheapest rate for you plus we'll have received the funds by the end of the week/month so it simplifies making the donation. If you need to book a cancellable rate make a note in the comments section that you'd like us to charge 10% in advance and make this donation on your behalf, the remaining 90% would remain cancellable as per the rates usual terms.
Should you wish to make an additional donation Debbie's Just Giving page is http://www.justgiving.com/debbiemcgroarty