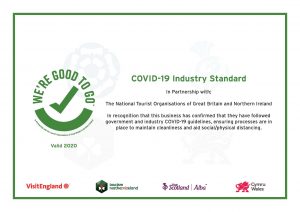 Click Here if you've landed on this page but are actually looking for advice if COVID 19 means you need to amend or cancel your booking.
All aspects of the hotel are open and restrictions have been lifted from the 19th July but we are keeping many aspects of the previous rules in place whilst the pandemic continues.
If you're planning a visit we hope to be able to reassure you about our measures to keep both you and the staff safe and also to promise that we're committed to providing you with an enjoyable break to York.
We continue to offer table service of both bar drinks and restaurant meals within their respective areas or room service should you prefer.  Most excitingly we've now made the most of our large gardens with extra outdoor seating plus al fresco dining from our new shepherds hut with wood-fired pizza oven (booking is advisable).
Our approach to ensuring that we are a safe place to visit for all is three pronged:
-we will be adding extra cleaning to ensure that surfaces are safe to touch,
-we'll be encouraging social distancing of both staff and guests throughout
-we'll have measures in place to limit the spread of the disease should someone become poorly onsite.
We have been studying advice as it has been published, risk assessed all areas and considered the best practices for our hotel to keep everyone safe; we're still keeping everything under constant review making improvements as we identify them .  Whilst the back of house operations are probably of little interest to most guests we thought that you'd like an overview of those steps that we're taking front of house to ensure both you and our staff keep safe:
Measures to reduce the transmission of Covid-19 by touch:
-hand sanitiser stations are dotted around all of the public areas and their use is encouraged.
-all surfaces that are commonly touched such as furniture, door handles, lift buttons are frequently disinfected
-tables and chairs are disinfected between each guest in all areas.
-bedrooms are disinfected with the use of a ULV fogger with food safe disinfectant between each guest.
-public areas are disinfected where appropriate by the ULV fogger with food safe disinfectant overnight.
-bedrooms can still be serviced mid-stay by our housekeeping team if requested but with additional safeguards for both guests and the staff.
-intricate items that are hard to disinfect thoroughly with chemicals are sanitised in a UV cabinet.
-once cleaned and disinfected bedrooms are sealed so guests are reassured that no-one has entered the bedroom subsequently.
-we encourage contactless payments at the reception desk and bar snacks and drinks can be ordered and paid for on an app.
-Restaurant menus are single use and disposable and condiments are individually portioned.
-bedroom keys are sanitised before issuing.
-our public toilets are frequently cleaned and sanitised although resident guests are encouraged to use their own facilities.
-all hotel staff have access to the relevant PPE for their roles, good hand hygiene will be insisted upon and disposable gloves provided for when appropriate.
Social Distancing:
-Protective screens are in place on both the reception desks and bar (although table service only is offered).
-Floor markings and signs throughout the hotel instruct both guests and staff how to maintain a safe distance between one another.
-The check in and check out procedure has been streamlined to avoid congestion at busy times
-Tables and chairs in all public areas including the bar, restaurant, lounge and beer garden are spaced with the 1m+ rule in mind. Screens are used in some areas.
-Table reservations for both breakfast and dinner are likely to be essential on most days. We will seek to avoid any queueing plus with table numbers reduced indoors we will need to plan dining times on busy days to accommodate all.
-Housekeeping is carried out after the rush of check out and before the check in time of 2pm to reduce interaction in the bedroom corridors. Pre-arranged early check ins will be possible in some instances but in general it will be 2pm before guests can access bedrooms on busy days especially because we are also factoring the disinfection of bedrooms into our cleaning schedule.
-The lift is only to be used by one bedroom/household at a time.
Measures to restrict the spread of Covid -19 should someone become unwell:
-Face masks to be worn by all staff at all times when serving indoors* unless they are standing behind a protective screen. Gloves and goggles are also provided for when required. (*unless a medical reason prevents their use).
-We have registered as a business offering lateral flow testing for our staff. Staff are encouraged to take repeated advantage of this.
-Staff are to be grouped together to work in fixed teams whenever possible, this will limit any potential spread amongst the entire staff.
-We trust that customers will not attempt to travel if they should be self-isolating or displaying any symptoms of Covid-19. If a customer is clearly unwell we will seek medical assistance on their behalf and ensure that they are able to isolate in their bedroom. We will not allow unwell guests to access public areas. We have created flexible room rates which will allow guest's the option to cancel late and without charge should they become unwell. Advance purchase bookers will be offered a change of dates should they either need to self-isolate or display symptoms, again this should remove the incentive to attend if medically unwise.
Whilst our attention has definitely turned to welcoming guests back to both our hotel and wonderful city we've certainly learnt not to discount unwelcome surprises so our current advice for any necessary cancellations can be found by clicking here.